Web Design with you in mind
Everyone has a website now, let's make yours stand out!
---
Mobile-Responsiveness
Search Engine Optimization
Accessibility
Is your website safe and secure?
I can remove malware, increase site security, and put safeguards in place. Remember, backups are your lifeboats when things go wrong.
Amy Jo is very engaged in the Rockstar Community and has really shown a lot of growth as a WordPress Developer. She is a very dedicated student and is able to help others troubleshoot issues in the course, as she completed the course. Amy Jo is extremely encouraging and is a great motivator to others in the community. She has really built on her skills and is always willing to share that knowledge with others. Amy Jo is an amazing member of our community and I hope she will continue to mentor others in the Rockstar Community.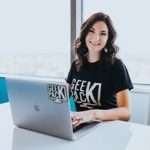 Julia Taylor
CEO & Founder of GeekPack®
I had contacted Splash Tech Solutions looking for help with a Christmas project I wanted created. They began to work on it right away and within a day or two had a better solution for me that would allow me to move my game pieces around and actually change up the pieces.
They were pleasant to work with and very attentive to what I was envisioning but unable to figure out on my own.
I will definitely contact them again.
Pastor
Amy was so helpful and fixed the issue I was having very quickly! She also took the time to help me with a few other things she noticed needed some help. My website looks amazing now!
Business Owner
Hi, I'm Amy Jo
I'm a web designer with various other tech skills. In my free time I maintain my Minecraft server and craft new things with my 3D printer. I launched Splash Tech Solutions in 2022.
Detail Oriented
I'm a perfectionist, maybe even to a fault. I want every detail to be perfect and will put in the time to get it right.
Reliable
My clients have multiple ways to contact me and I answer quickly. I also use reliable hosting so you don't have to worry about your website going down.
Resourceful
I learn new things quickly and I can find creative solutions where others have been stumped.